Below chart summarises various courses offered
All courses offered in both classroom and live online training

Online training sessions are live and interactive

All courses offered below 40K (tax included)
Individual courses shown in below chart are the various job roles in VLSI Design flow.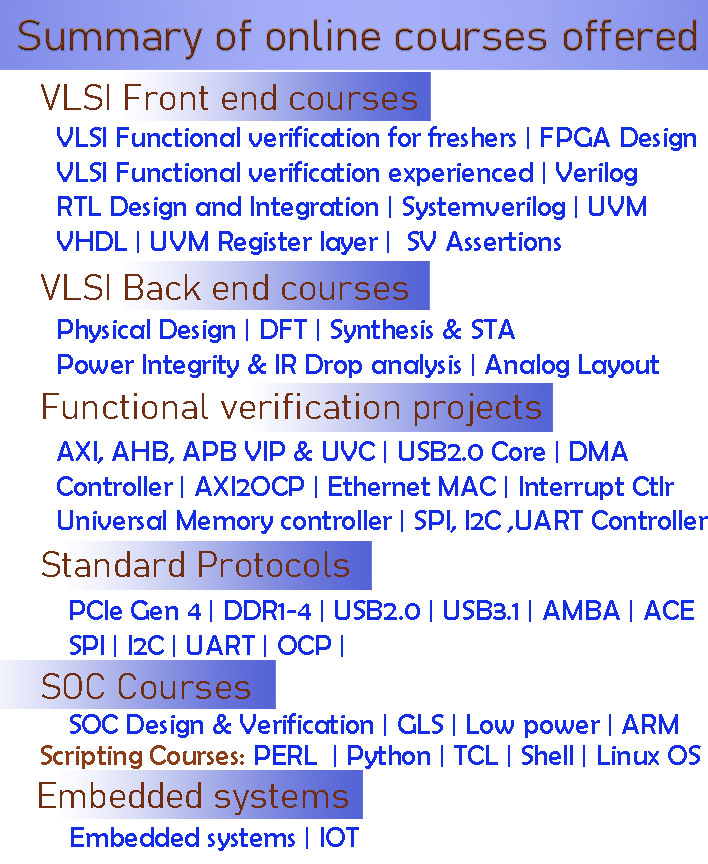 Below is the skill set required for various domains. student can opt for courses based on the skill set interesting for them.
VLSI Front end domain(pre-synthesis flow) is a programming based job role, requires good expertise with Digital Design, Verilog, SV, UVM and standard protocols(Ex: AXI, AHB, SPI, PCIe, etc). Student should opt for this course if they are interested in programming based jobs. Front end engineer also requires ability to read the design specification, comprehend the design behaviour and implement the same using Verilog and SV.
VLSI Back end domain(post-synthesis flow) is more technology and tool based flow implementation job role, requiring good expertise with device fundamentals, VLSI technology concepts, digital design and design flow implementation using EDA tools(Ex: ICC, Design compiler). Student should opt for this course if they are interested in above skill set, and particularly not interested in programming based jobs.
Choosing the right course
To start with, opt for training in either VLSI Front end domain or VLSI Back end domain. Both these course will have 1.5 months of basics training, after that main course can be selected.
Both front end and back end domains offer similar job opportunities. Student should choose a course based on their passion and interest rather than job opportunities.
All VLSI Front end and Back end domain courses have common 1.5 months training, except for one domain specific course during initial 1.5 months.

Opt for specific domain(RTL Design, Verification, PD, DFT, Layout etc) after 1.5 months training.
Option to switch to any other domain without paying any additional fee during initial 1 month of the course.
DFT flow happens in both pre and post synthesis flow, hence DFT placed under backend flow is only for convenience.
VLSI Engineer Common Skill set required (Student will be trained on all these aspects)
Strong Digital Design fundamentals
CMOS Basics
Linux OS
Any one scripting language (PERL/Python/TCL)
Exposure to any one text editor (Gvim, Nedit, Notepad++)
Revision management tools exposure

Clearcase, GIT, Perforce (any one of these)
VLSI Back end domain specific skill set
Device fundamentals (Below is just a summary, not a complete list)

Conductors, Insulators, Semiconductors
N-doping, P-doping
Diode, BJT, PMOS, NMOS, CMOS, FinFET
2nd order effects

IC Fabrication
VLSI Technology concepts (not a complete list)

Resistor, Capacitor, Inductor
RC Circuit Analysis
Parasitic's(R, C), Fan-out, Load
Various delay types
Clock generation, Skew, buffers

Tool Command Language (TCL)
Tool expertise (Based on domain)

ICC, PT, Design Compiler, StarRC, Redhawk, ICV, etc
Embedded Systems skill set required
C Programming
C++, Data structures
Micro controllers(ARM, PIC)
Peripheral protocols (SPI, I2C, CAN, UART, etc)
Training Lab sessions:
Each course has 4 days of lab sessions per week (apart from regular sessions). Below is number of lab days for each course.

Functional Verification Training

Verilog : 22 days
Digital Design: 8 days of practice sessions
SV : 44 days
UVM : 15 days
Scripting: 6 days
Linux : 4 days
Revision management : 2 days

RTL Design and Integration

Verilog : 22
Digital design : 8
CDC and Lint : 15 days
LEC : 8
Synthesis and STA : 12
Hands on project: 15

Physical Design : 70 days
DFT : 60 days
Custom Layout : 60 days
VLSI Front end domain specific skill set
Reading Design Specifications, Comprehend the design architecture and functionality
Standard Protocols

On-chip protocols
Peripheral Protocols

Ex: PCIe, USB, I2C, SPI, etc

Hardware Description Languages(HDL)

Verilog or VHDL (Preferably Verilog)

Hardware Verification Language (HVL)

SV
UVM (not a HVL, it is a methodology)

Debug expertise
Course schedule & Start dates
VLSI Front end Courses

Course starts every 6 weeks

V, SV & UVM training during weekends
Other courses(Digital, ASIC flow, etc)) during weekdays

Students missing these sessions will get video access or will be offered back up sessions.

5 months course

1.5 months (Common course for all front end courses)

Verilog with 4 hands on projects
VLSI Design Flow (ASIC Flow)
Advanced Digital Design

Functional Verification Training

2.5 months

Systemverilog with 3 hands on projects
Linux

1 month

UVM with 1 hands on project
SOC Design & verification concepts
Revision management

RTL Design and Integration Training

3.5 months

RTL Integration concepts
CDC, Lint
LEC
Synthesis
STA

VLSI Back end courses

Course starts every 6 weeks
5 months (DFT is 4.5 months course)

1.5 months (Common course for all back end courses)

Device fundamentals (not for DFT)
Fabrication (not for DFT)
VLSI Technology concepts
Advanced Digital Design
Linux OS
Domain specific basic course

Introduction to basic concepts of specific domain(ex: PD, DFT, Layout, STA, etc)

3.5 months

In depth training with multiple hands on projects
Institute facilities
Access to all recorded videos at institute premises
Access for missed session videos to watch at home
Access to tools for 12 months
Option to repeat the course